The 5S methodology emerged in Japan in the mid 1950s, after the Second World War. At the time, its purpose was to help the country's companies to recover and reorganize during the post-war crisis. Today, the methodology is used by companies from the most varied segments.
Do you know what the 5S methodology is and how exactly it's used in organizations? Read this article and understand why it is so important.
What is the 5S methodology in companies?
How many times you had to stop what you were doing to search for something in your office, but only found it some time after you had already given up looking? This is just one example of a situation that would be avoided if your organization had implemented the 5Ss.
The 5S methodology is more than a management tool: it is a philosophy. Its application in the workplace intends to promote discipline and process security, thus ensuring much more organization, quality, and productivity. The method is based on the analogy to the initial letter of the five adopted principles, which are:
Seiri (Sense of Use): separating the useful from the useless, eliminating the unnecessary;
Seiton (Sense of Organization): to identify and arrange everything so that anyone can locate it easily;
Seiso (Sense of Cleanliness): to keep an environment always clean, eliminating the causes of dirt and learning to avoid getting it dirty;
Seiketsu (Sense of Health and Hygiene): maintain a work environment that is always favorable to health and hygiene;
Shitsuke (Sense of Discipline): to make these attitudes a habit, turning the 5S into a philosophy of life.
To better understand each of the senses, see below.
What does each S stand for?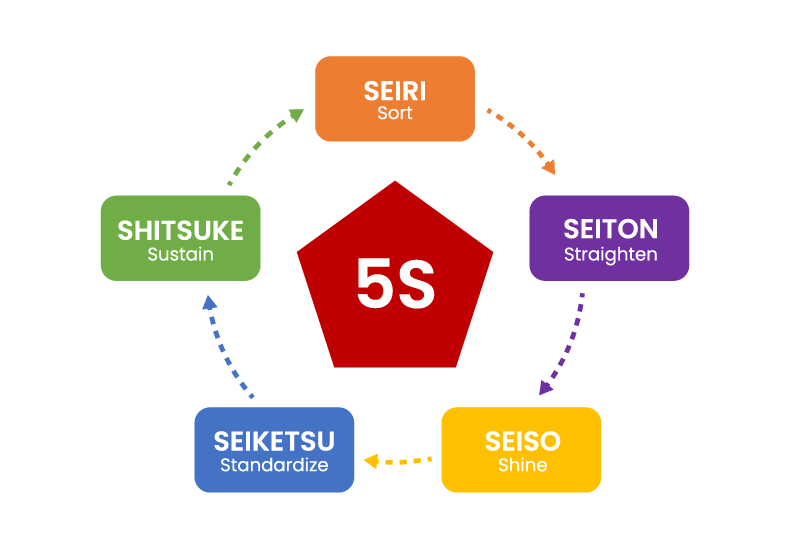 SEIRI – Sense of Use
The main objective of the first step of the 5S methodology is to make the work environment more useful by eliminating obstacles that hinder production and teamwork.
How to implement it in the work environment
Relocate objects and documents to the areas they relate to;
Identify the leaders of each area;
Remove anything that is not useful in each sector;
Create a job and function manual so that everyone knows what is their responsibility.
SEITON – Sense of Organization
The second step of 5S is a continuation of the first. Soon after eliminating unnecessary items in your company, it's time to organize them and try to put each item in its proper place so that employees can access them easily.
How to implement it in the work environment
Label items and drawers, cabinets, folders, and packages;
Organize objects/items so that they are where they need to be used;
Reduce the need for employees to walk to another area to get a tool they use constantly.
SEISO – Sense of Cleanliness
The third step of the 5S methodology consists of cleaning and thoroughly investigating the workplace in search of routines that generate dirt or imperfections. When it comes to cleaning, in this case, have a clear awareness that "more important than cleaning is not dirtying". So when you use something, always try to leave it clean and in the right condition to be used again.
How to implement it in the work environment
Ensure that the used work equipment is clean afterwards;
Leave the work environment clean and well maintained.
SEIKETSU – Sense of Health and Hygiene
The S of "Seiketsu" consists of the maintenance of the three initial steps, generating constant improvements to the work environment. It aims to improve the quality of life, creating conditions that favor physical, mental, and emotional health, from hygiene practices and task standardization.
How to implement it in the work environment
Keep the three previous senses in full operation;
Standardize environments, attitudes, and operational procedures;
Keep a board for improvement suggestions;
Carry out periodic examinations of employees.
SHITSUKE – Sense of Discipline
The last phase, or principle, of the 5S program, is defined by the commitment to the previous steps and relies heavily on self-management. Its goal is to control and maintain discipline among employees so that all "S's" are cultivated and applied continuously, i.e., the employees themselves know what needs to be done and proactively put into practice the previous steps.
How to implement it in the work environment
Add pictures on murals of how the place should be maintained (so that it acts as a role model);
Create to-do lists for each department, placing them in visible locations so that tasks are always remembered.
The importance of the 5s in companies
If we think that there isn't a single company, regardless of segment, that doesn't need to organize itself in order to facilitate the routine and make its actions increasingly productive, it's easy to recognize the importance of 5S.
But if you still have doubts, here are the benefits of the methodology:
It makes items and objects easier to find, use and return to their proper place;
Work time becomes more productive when you know exactly where to go to get the necessary material;
It increases the engagement of the collaborators in the team since clean and organized environments depend on the participation of the whole group to keep them like that;
It optimizes the individual work of each collaborator, influencing an improvement in the delivery of results. As an example, less stressed employees and, consequently, healthier ones;
It brings better quality, productivity, and safety at work.
Summarizing
To sum it up, we'd like to emphasize that the 5S methodology is a tool that develops an organizational culture focused on:
Increase in productivity;
Improved product and service quality;
Cost reduction;
More agility with demands;
Improvement in security;
Increased morale of the company and its team;
Improvement of the work environment;
Improved quality of life.
If you have any questions, please leave a comment. You can also take a look at Neomind's blog while you're on it.
Not familiar with Fusion Platform yet? Try it free for 15 days.